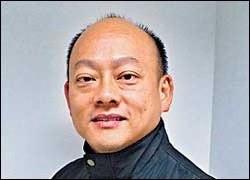 The Real Master is None Other Than You!
Kerby Kuek has been practicing Feng Shui and life reading for more than 20 years. His areas of expertise include Chinese astrology, name analysis, face reading, as well as I-Ching. Kuek is a certified black belt instructor in martial arts. He also practices yoga, Tai-Chi, Mizhong Qigong and inner alchemy. He continues to learn from expert masters from all over Asia.

He has put a great deal of effort into finding the real essence of 5,000 years of ancient Chinese tools.

He had completed a Qigong training with Master Zhe from Shaolin Temple, and practicing Wudang Tai Chi. Kuek holds a Masters Degree in Business Administration (Newport University, USA) and a Bachelor of Science Degree in Management (State University of New York, USA). Upon completing his education, Kuek moved to Hong Kong and discovered the fascinating disciplines of Chinese astrology, name analysis, Feng Shui, life and face reading, and I-Ching. Once skeptical of Chinese metaphysics, Kuek is now a skilled practitioner and strong believer. He has developed techniques and approaches that are more practical for practitioners to use when applying these ancient tools in our contemporary world.
Kuek's own personal life has flourished and improved with the aid of Feng Shui. After changing his Chinese name using name analysis and continuing to apply Feng Shui principles in his daily life, Kuek's income grew seven-fold, his health was enhanced, and he now has a wonderful family life with his beautiful wife and charming daughter. Kuek has also successfully helped his family, friends, relatives, business associates and clients – ranging from doctors and financial advisors to insurance agents – achieve their financial and personal goals through the use of Feng Shui, name analysis and Chinese astrology. He has also done life and face readings for these clients and interested friends from around Asia and the United States.
Kuek strongly believes that Chinese Metaphysics is not superstition at all: It is a combination of formulae, experiences and common sense, whereby a trained master can skillfully integrate it into your daily life and thus help you to achieve your personal and financial goals. Kuek also believes that to improve your personal life and enhance your finances, knowing your true self is critically important in order for you to reap the abundance of the universe and be empowered in this ever-changing world.
On September 1st 2008, Master Kerby has become the Chief Disciple of Xuan Kong Zhang Pai. On The ninth month of 2010, Kerby Kuek has the honor to become a disciple of Master Lu Ju, and accepted him through Planchette Writing (Fu Ji) and a year later he also being accepted as a disciple by The Nine Heavenly Goddess, the pionner of inventor of Feng Shui!Thus,Kerby Kuek has published 15 books on feng shui, inner alchemy, Taoism and metaphysics.